Finnish glazing is ideal if you want to make your balcony warm but at the same time attractive and beautiful. The combination of beauty and quality gives a special charm to your space. Find out more about glazing on our blog: Glazing / Balcony glazing < / p>

This type of glazing is ideal for separating smoking rooms, with almost imperceptible partitions between the two rooms. It fits perfectly into catering facilities, offering a beautiful and modern design imbued with simplicity.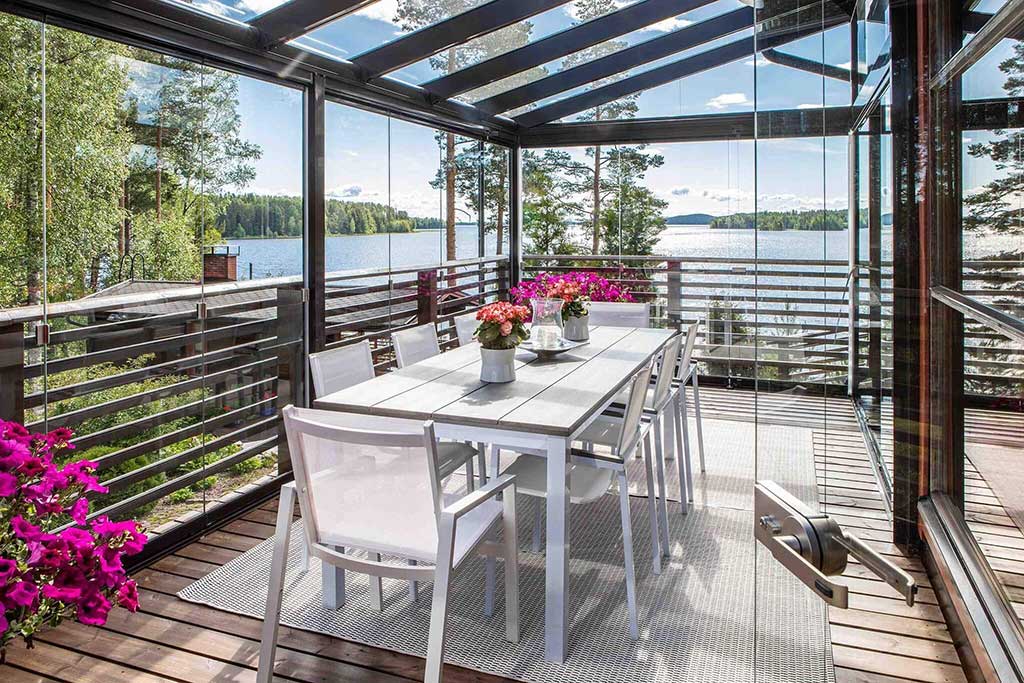 Benefits of Finnish Glazing
Finnish glazing has a number of advantages and benefits. Some of them are:
There is no loss of light with this system, with this design you literally feel like you are outside.
It provides adequate protection from atmospheric elements, protects from rain, snow, strong wind and everything causes inconvenience.
With its practical handling and simplicity, lightly ventilate your space, quickly get rid of unpleasant odors and other things.
It saves a lot of energy by not losing heat.
It is an ideal protection against noise, which is absolutely necessary nowadays in a hurry and loud sirens.
Increases protection against burglary, which is logical because an open balcony or terrace means easier burglaries. < / li>
Design and practicality are what make this glazing system too easy to clean and maintain.
Finnish glazing has no effect on your façade due to its ease of installation.
Possibility of complete opening a glass rock.
To have a clearer idea of ​​what Finnish glazing is and what it looks like, take a look at our realized PROJECTS .
If you opt for Finnish glazing , Boomerang is the right destination for you!
Contact us at the phone number: 035-215-854, 061-959-786, via e-mail: info@bumerang.ba or via contact form on our website.